COMMERCIAL AND CORPORATE VIDEO PRODUCTION  PORTFOLIO
Professional video production in Dublin and Belfast and throughout Ireland
Experienced filming for BBC, ITV, RTE and UPS
Professional video productions tailored to amplify your narrative and achieve your project's ultimate goals.
As a trusted partner for commercial, corporate, broadcast and editorial clients in Dublin and throughout the island of Ireland, we pride ourselves on delivering stylised and engaging video productions for a diverse range of industries, including corporate, commercial, PR and event clients. Those in property development, hospitality, tourism, construction and the music scene.
Experience the difference from comprehensive video production offerings including:
Corporate Video Production
Commercial and Advertising Video Production
Construction Surveys and Videos
Music Video Production
PR Video Production
Editorial Videography and Video Production
EXPERIENCED filming for prestigious clients including BBC Worldwide, ITV, and RTE, let us be your go-to source for aerial drone photography and video production services in Dublin, Belfast and throughout the island of Ireland.
Our expertise extends across Ireland and the UK, catering to diverse industries including advertising, commercial, music, corporate, tourism, hospitality, construction, and PR.
Capturing unique, stylised and engaging visuals to elevate your brand and leave a lasting impression on your audience.
CONTACT US today.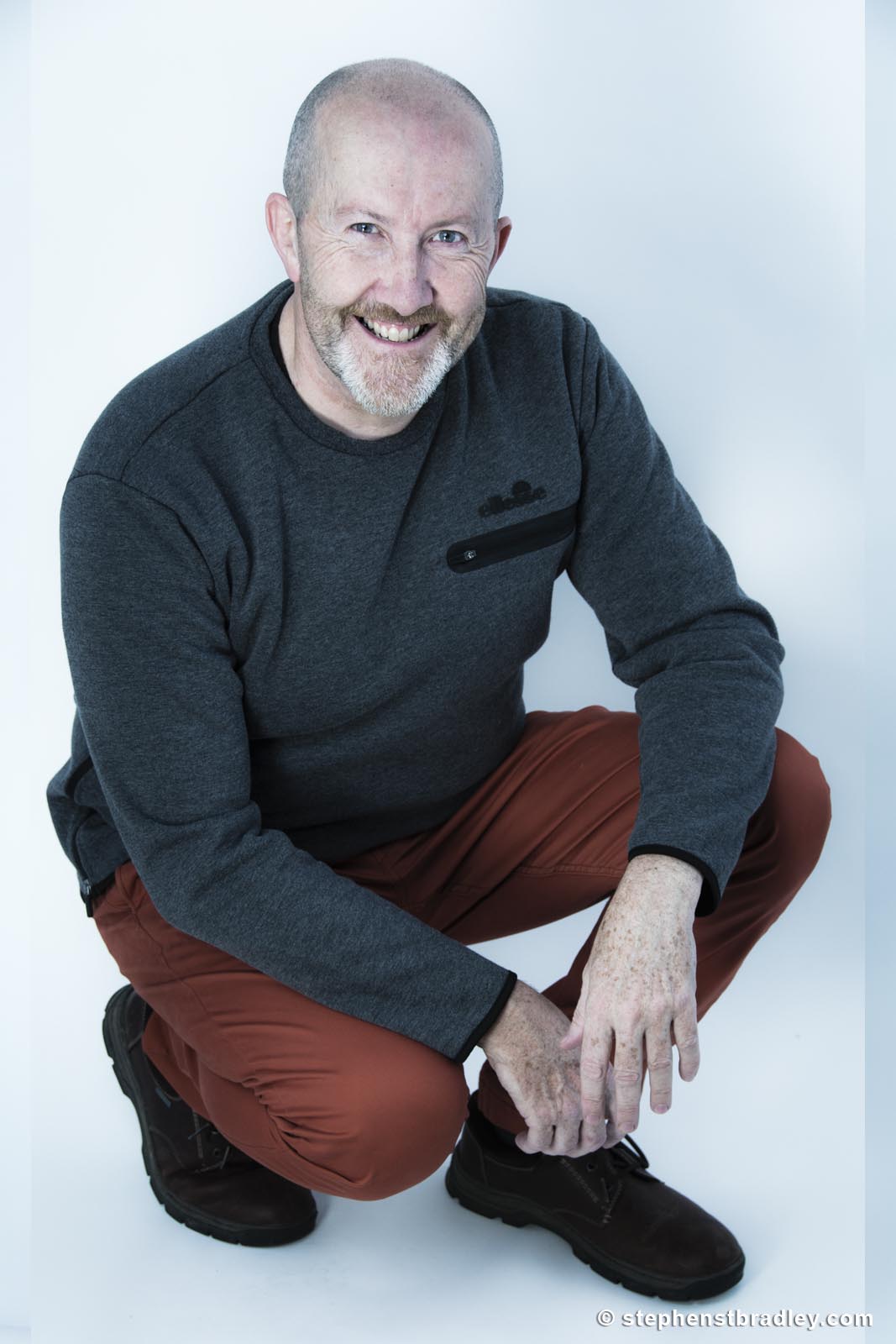 Locations we film in – 
Ireland (

Carlow, Cavan, Clare, Cork, Donegal, Dublin, Galway, Kerry, Kildare, Kilkenny, Laois, Leitrim, Limerick, Longford, Louth, Mayo, Meath, Monaghan, Offaly, Roscommon, Sligo, Tipperary, Waterford, Westmeath, Wexford and Wicklow).

Northern Ireland, England, Scotland, Wales and the Isle of Man.
Video production client list includes:
Film industry video production project overview –
A collaboration between Screen Ireland and Screen International, a renowned magazine in the movie industry, Stephen was approached to create a stylised video to announce recipients of the first ever Rising Stars Ireland awards.
Rising Stars Ireland is a program dedicated to empowering and promoting emerging Irish talents in the local and international film scene.
Filming of this project took place at the historic Rathfarnham Castle in Dublin, Ireland, where Stephen captured unique and stylised portraits of the ten Rising Stars Ireland award recipients.
These portraits were seamlessly integrated into our video, showcasing the names and job titles of each honoree.
Services provided – 
Locations scout
Clearances
Aerial drone videography
Videography
Photography
Video Editing
Mia Mullarkey, an accomplished writer and director and one of the esteemed winners of the prestigious Rising Stars Ireland award. 
Construction video production project overview –
Partnering with Cundall, a renowned international consulting, engineering, and design powerhouse, we embarked on a remarkable journey to showcase their groundbreaking installation atop Riverside Two in Dublin, Ireland.
Our meticulously crafted video production seamlessly integrates captivating aerial footage and on-site videography and photography, delivering a mezmerizing portrayal of the scale and detail in this cutting-edge, eco-friendly engineering installation.
Services provided – 
Story and shooting script development
Locations scout
Clearances
Aerial drone videography and photography
Videography
Video Editing
SMM consultancy
Screenshot showing graphics overlaid on arial video footage of the Riverside Two building in Dublin, Ireland, filmed for our client Cundall.
Hotel video production services project overview –
Our advertising video production was produced as a cinema commercial to captivate a dynamic young male / female demographic and follows a group of adventurous friends in their early twenties as they embark on an unforgettable weekend retreat to the vibrant city of Belfast, and their destination of choice Benedicts Hotel.
Starting our video production with stylised still images showcasing iconic Belfast tourist spots, we seamlessly into mesmerizing video footage, as the young friends step into the magnificent surroundings of Benedicts Hotel.
Enjoy features of the hotel including its warm and welcoming reception and the lively atmosphere of the hotel's bar and live music. Delight in the culinary excellence showcased in the hotel's restaurant, and wind down in the comfort of cozy bedrooms.
Brace yourself for an exuberant and exhilarating hotel video production that will leave you yearning for your own memorable experience at Benedicts Hotel.
Services provided – 
Location scouting
Casting
Story development
Clearances
Videography
Edit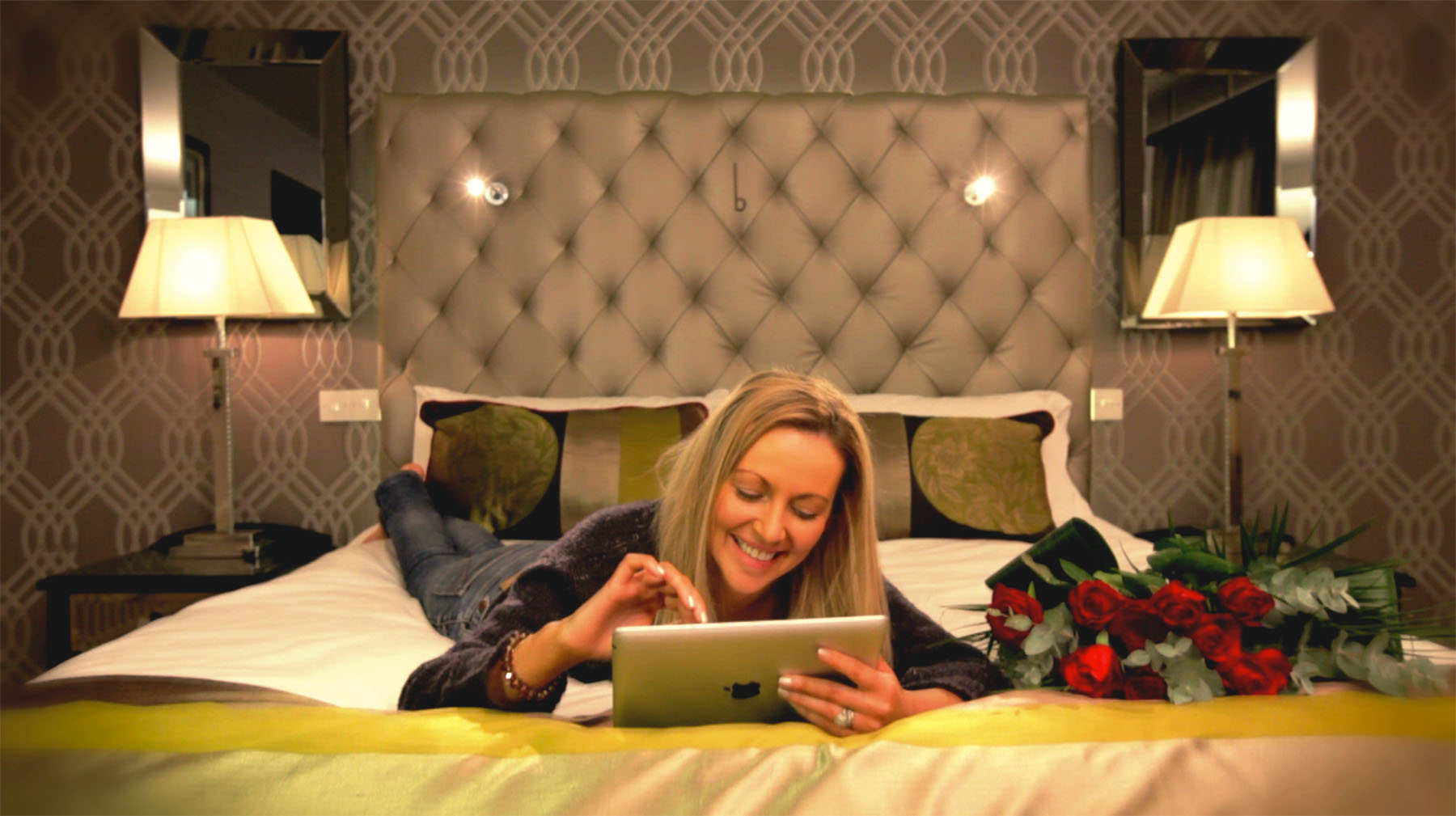 Screenshot showing one of the primary characters relaxing in a scene from this cinema commercial we produced for Benedicts of Belfast.
Music video production project overview –
This project entailed the production and direction of a music video that delves into the sensitive topic of church abuse and cover-up.
Sung by renowned Irish folk singer Tommy Sands, the video portrays the poignant lyrics through a captivating montage of still images and video footage.
These images seamlessly blend with breathtaking aerial footage of the rugged mountain landscapes in the Mourne Mountains, near Tommy's hometown of Rostrevor.
In order to protect the privacy of the abuse victim, we cast and filmed an actor to represent the individual involved. Our aim was to artistically convey the emotional depth of the story, shedding light on this important and sensitive subject matter.
Services provided – 
Story and shooting script development
Locations scout
Clearances
Aerial drone videography
Videography
Video Editing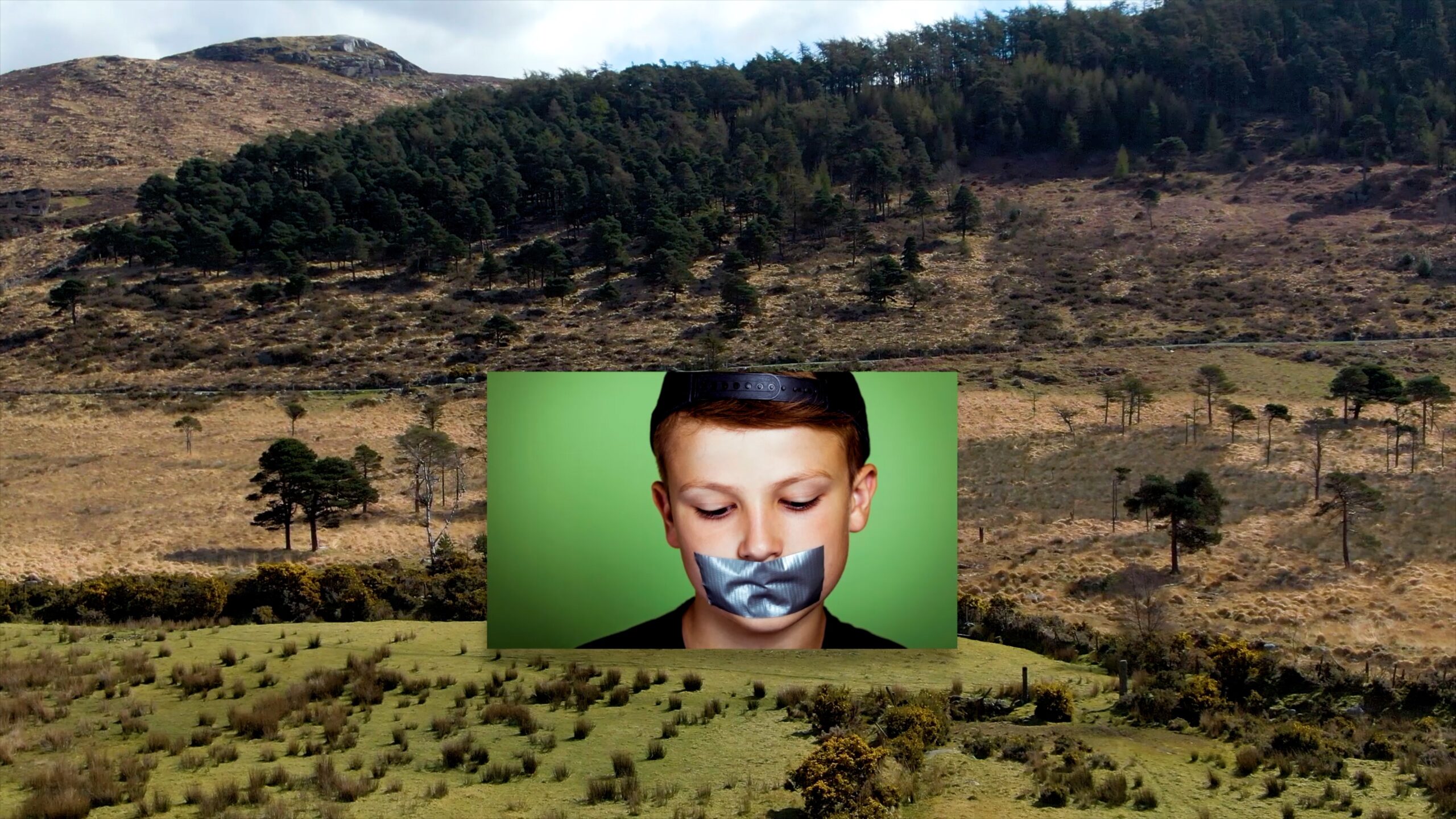 This captivating video screenshot from the music video 'Collusion' showcases the seamless integration of stylised photographs into video footage of the Irish landscape, uniquely highlighting the essence of the song's narrative.
Television video production project overview –
Embark on an extraordinary journey as you delve into the captivating episode of 'The Genius of Photography' produced by Wall To Wall Productions about Irish photographer Donovan Wylie.
Director of Photography, Stephen, leads the way, capturing the essence of Ireland alongside renowned Magnum photographer Donovan Wylie.
In this awe-inspiring episode, witness the dismantling of British army watchtowers in South Armagh, Northern Ireland, through a series of breathtaking visuals.
Unveiling a tale of resilience and transformation, this broadcast video production will transport you into a world where storytelling transcends boundaries.
Services provided – 
Location scouting
Safety inspection
Aerial and ground videography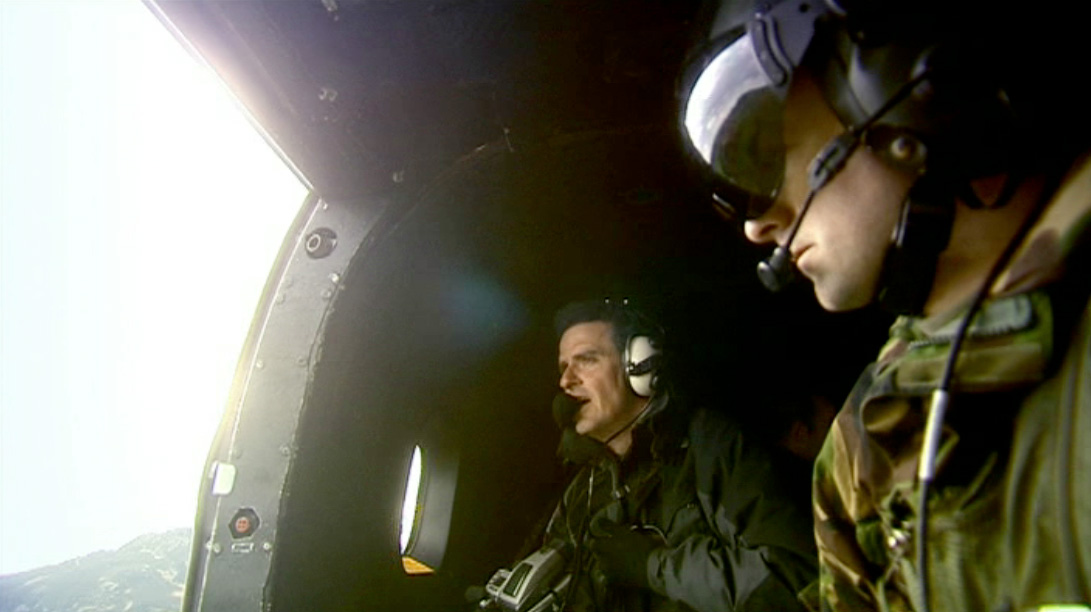 The breathtaking beauty of the south Armagh countryside viewed from a unique perspective. Stephen framed this image while filming for BBC Worldwide, showcasing renowned photographer Donavan Wylie as he immortalized the British army dismantling watchtowers from a Puma helicopter high above. 
Drone aerial video production project overview –
This aerial drone filmed video production showcases the seamless integration of Belfast Castle with its surrounding wooded landscape and Cave Hill Country Park.
Our journey begins with captivating shots of the autumnal golds from a bird's-eye view.
As we follow a car moving towards the gated entrance, we catch a glimpse of the castle's grand design, leaving a lasting impression.
Moving gracefully past majestic trees that encircle the castle's grounds, we see glimpses of the building through nature's forest frame. Finally, our camera presents the castle against an enchanting backdrop of the surrounding hills, capturing the essence of this historic Irish gem.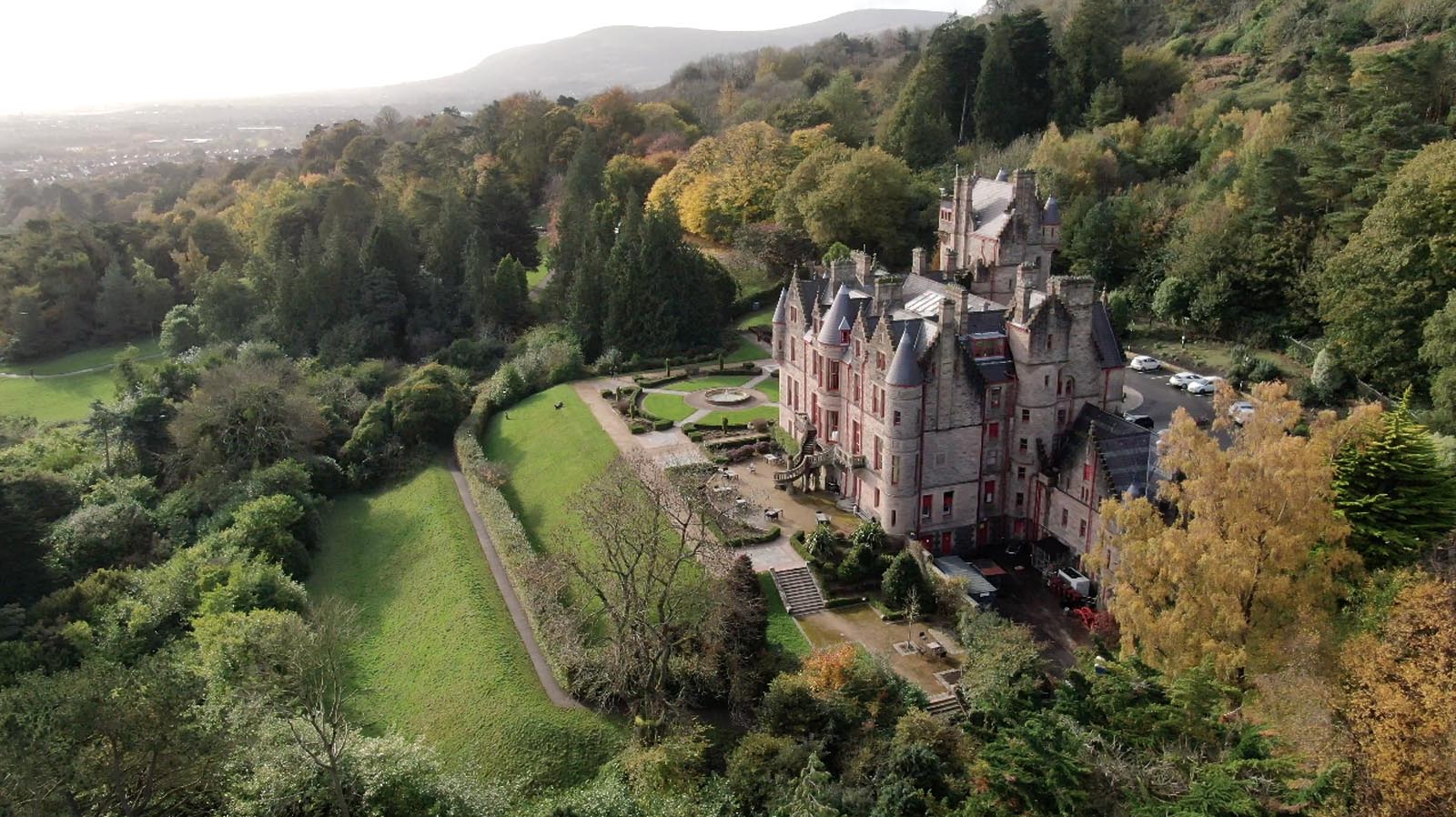 This image captures the remarkable proximity of Belfast Castle to the majestic Divis mountain and Black mountain, situated to the west of Belfast city. It beautifully showcases the awe-inspiring natural landscape of this region.
Video production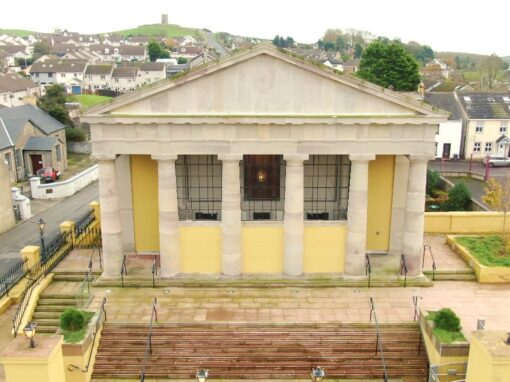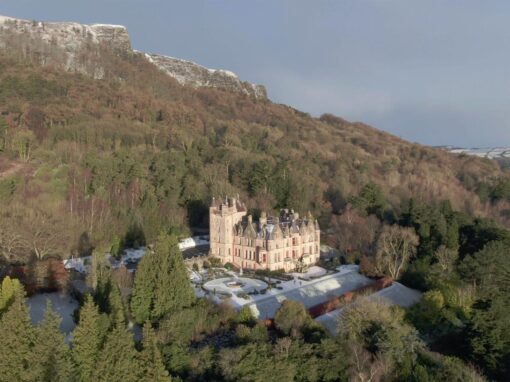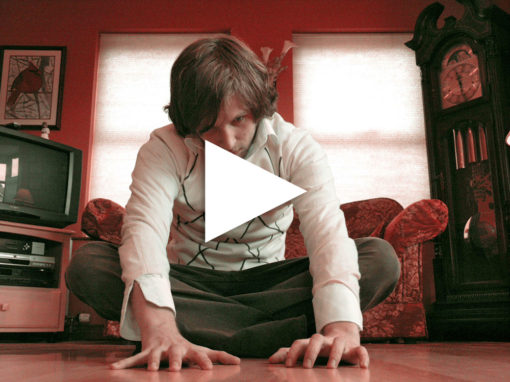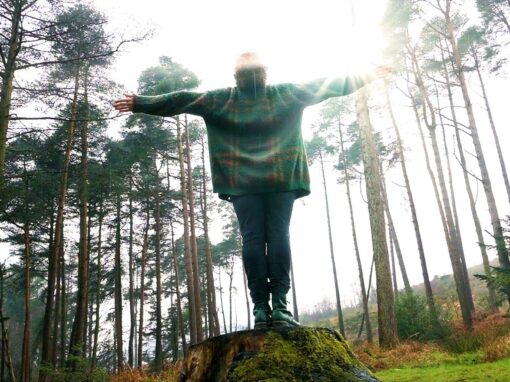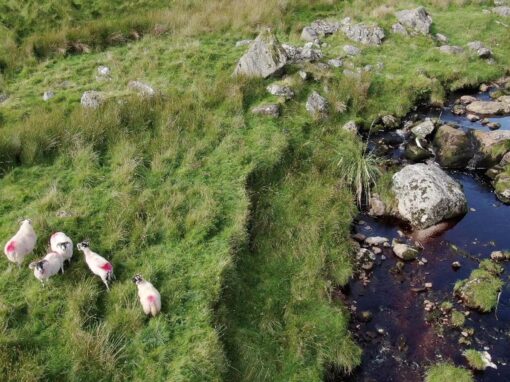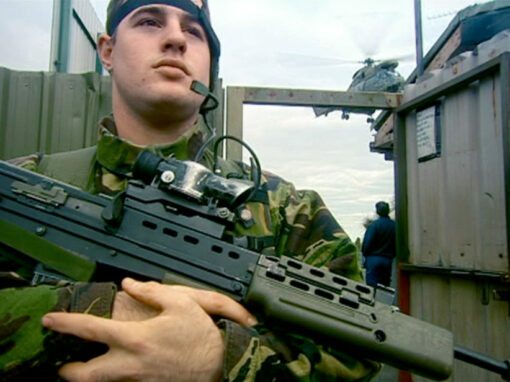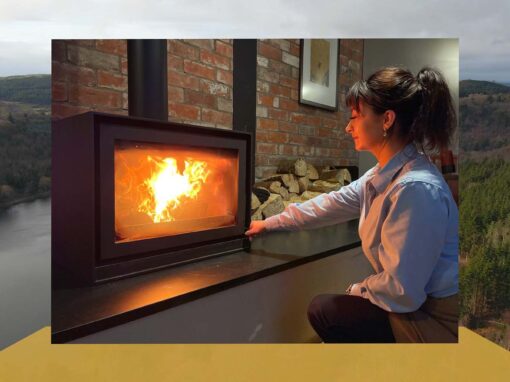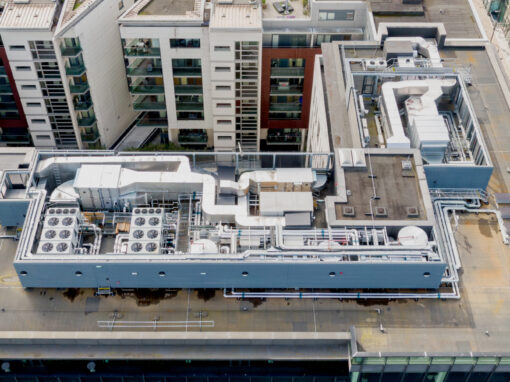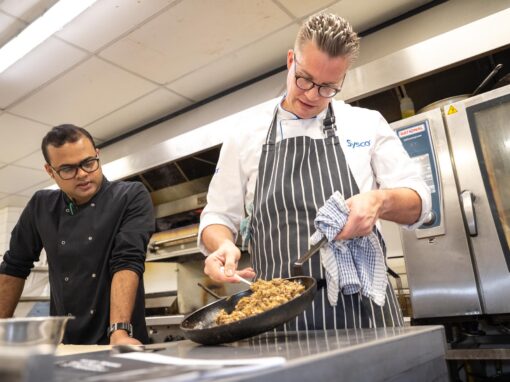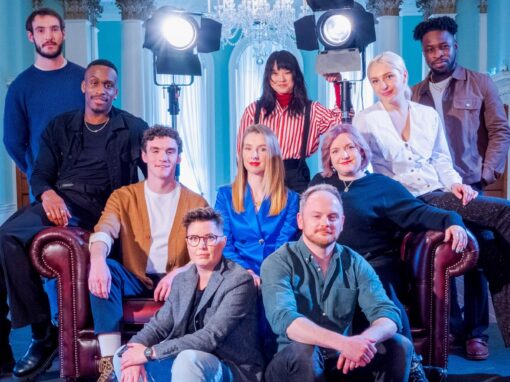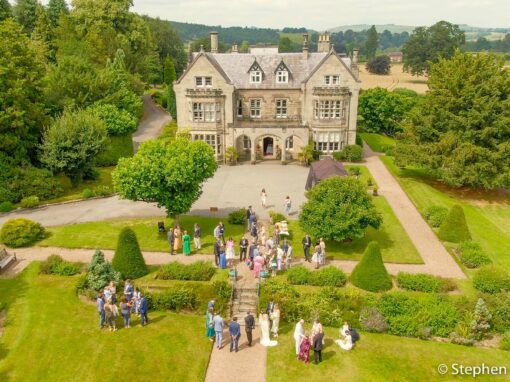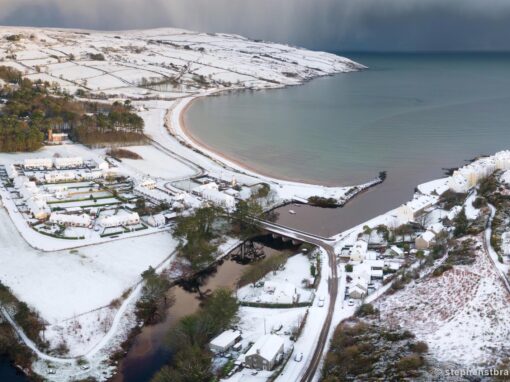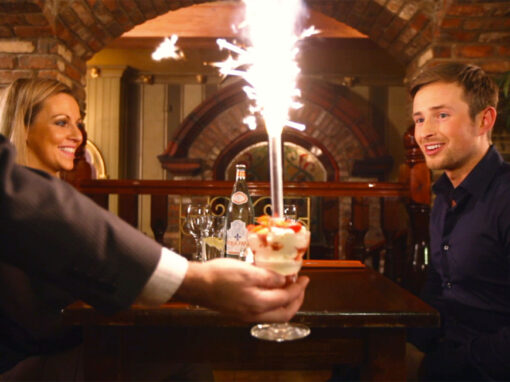 Commercial, advertising and editorial photography